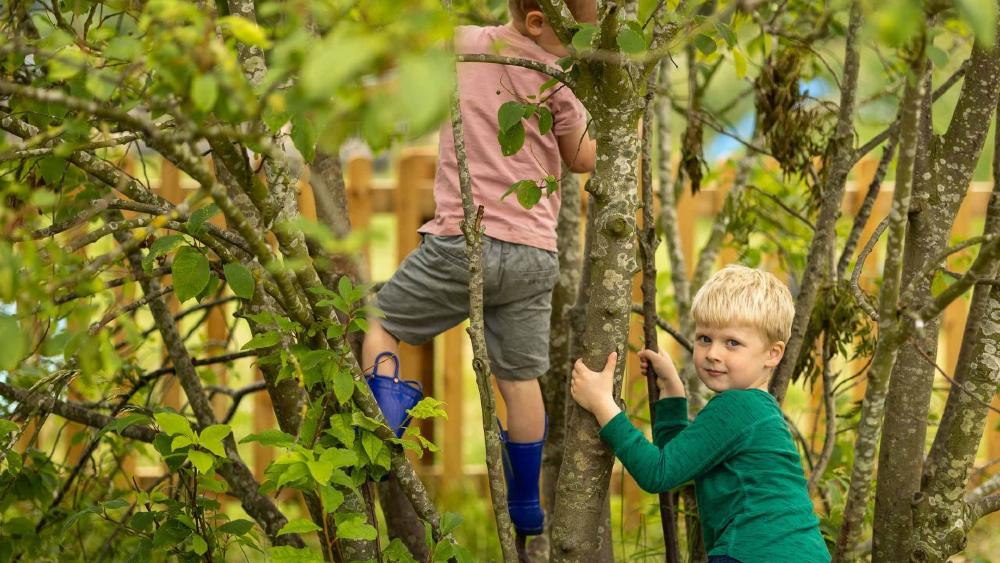 Our environment is rich in natural materials and we have an abundance of grounds for outdoor play.
We provide sufficient space, time and the right equipment for creative play; enabling children to take risks physically, emotionally and intellectually and to persevere when they encounter difficulties. We are passionate about outdoor learning and spend as much time outside as possible providing waterproof trousers and gloves, hats and wellies or sun-cream so we can go out in all types of weather.
The children are encouraged to engage in 'risky play' appropriate for their age, skill set and physical development. We take concepts from Forest School's ethos – the Toddlers and Pre-Schoolers are encouraged to climb trees, look for minibeasts, learn simple wood craft skills, practise den building and enjoy tasty treats cooked over our campfire.
'Mini David Attenboroughs'
Our staff and children are passionate about the environment believing that if children learn first hand about the world they will do their best to look after it.
We all learn best by doing things
We use a balanced approach that combines free play and structured learning activities that see the adults guide the children through their learning. We introduce key terms and extend their vocabulary whilst explaining the concepts and ideas behind the activities.
The children aren't the only ones learning, all the adults are learning alongside them. Some are doing Early Years Teacher Training, some are studying for degrees or Early Years Practitioner qualifications. In addition we all attend regular in house training on a wide variety of topics from developing children's speech and language to supporting mental health.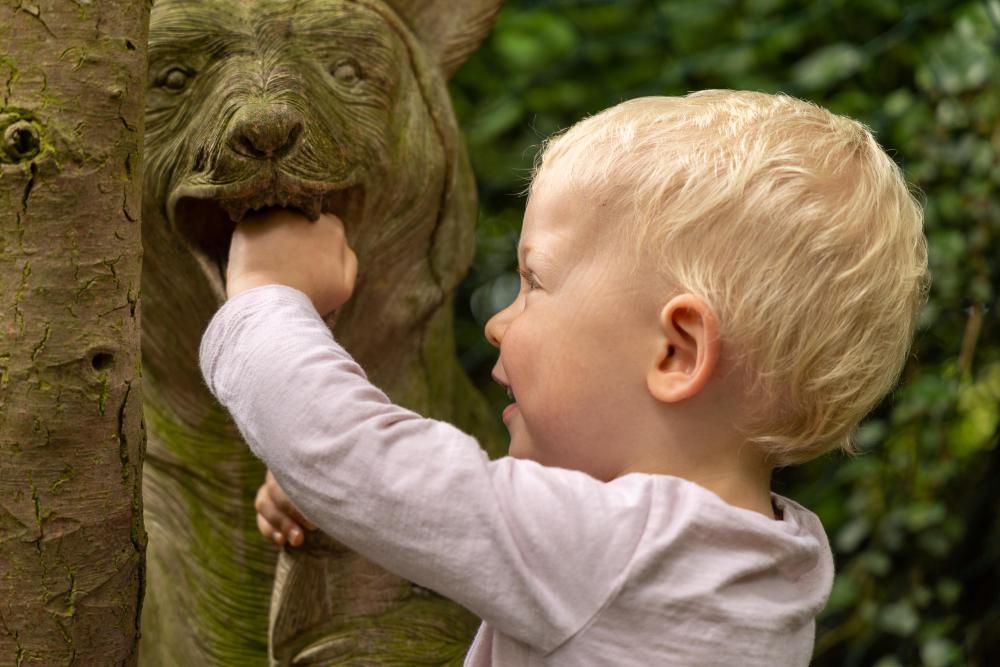 Good relationships are key to happiness

Whatever we do, wherever we do it we need to be able to build strong, respectful relationships to do it well. A positive ethos is reflected in all our interactions with each other, supporting and cultivating respect for others and the world around us. Our community is vital. We often have visitors and nursery parents come in to tell us about their interests and we have lots of links with our local community. We visit Granny Peck & her horses, go to the Therapeutic Garden Project, visit local farms, parks.
Our ethos is drawn from many theorists and our years of experience.
It has evolved over the years and is the product of many key staff members and our further education studies which have seen us take part in research projects and reciprocal visits to nurseries in Sweden and Italy – Reggio Emilia. We use elements from many theories and theorists including Forest School, CINDLe (Cambridge Independent Learning), Montessouri, High Scope, Elinor Goldschmied, Reggio Emelia, Susan Isacc, Vygotsky, Steiner.
Tracy, Carolyn and Kimberley love talking about the theory of early years development, probably more than is good for them. Do ask if you have any questions or would like to know more.
Inner strength
---
We believe that children should be enabled to become strong independent people, in both emotional resilience and life skills. We teach them to recognise and manage their emotions and to communicate confidently and clearly.
Curiosity
---
We want them to be able to question and think critically about all discoveries they make, to analyse facts and knowledge and make their own judgements. We use a Philosophy for Children approach and discuss questions such as 'Would you like to grow 1cm each day?' or 'Phones, good or bad?'
Individuality
---
We create a warm, nurturing, caring and educational environment that stimulates your child. We ensure that your child feels individually valued so that they may be supported to achieve their fullest potential. Whoever they are, we want to help them to become their best self.